CALVIN D. JOHNSON
President, Electronic Commerce Strategies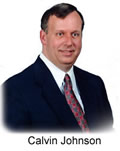 Calvin Johnson has over thirty years of diversified leadership experience in financial institutions, technology companies, and consulting firms, in functions such as electronic banking, retail marketing, strategic planning, payments systems, product development, financial analysis, market research, systems design, and project management. He is known as a creative, results-oriented executive in both line and staff assignments and is also a Six Sigma certified consultant. His track record is that of a successful innovator and entrepreneur who possesses superior analytical skills, a high energy level, tenacious perseverance, and a commitment to quality performance, effective team-building, and open communications. He has also served as a dedicated community service volunteer to many professional, civic, church, and educational organizations.
Mr. Johnson's recent activities include:
· Composed a strategic plan for large non-profit and served as digital marketing program manager for implementing a new web site, a mobile app, video streaming, social media & new payments options
· Headed a multimillion dollar international money transfer project for a Top 5 bank
· Developed Electronic Commerce Strategic Plans for major telecommunications firm, including implementing Internet Banking and Web Hosting Services for large regional Multi-Bank Holding Company
· Designed an integrated Telephone Banking Operation for a large community bank including Call Center, Voice Response, Customer Contact Management, and Computer-Telephony Integration Systems
· Designed and installed an Intranet-based Consumer Loan Decisioning and Fulfillment System for the Call Center and Branch Platform Operations of a multi-billion dollar thrift institution
· Designed a Browser-based Desk Top Decision Support System for the Dealer Finance Division of a major money center bank for installation in the Finance and Insurance offices of automobile dealerships
· Developed and implemented core consumer banking products and customer service operations including telephone systems, Interactive Voice Response, and a Call Center for the world's first totally Virtual Bank delivering retail banking services over the Internet, serving as Chief Technology Officer and Director of Operations
· Served as President of the Electronic Banking subsidiary of a large regional bank with responsibilities for identifying and developing market opportunities for new sources of fee-based revenues in areas such as ATM Deployment, Supermarket Banking, Debit Cards, Merchant Point-of-Sale Services, and Home Banking
Mr. Johnson has had many of his professional writings published by a variety of industry periodicals and trade associations and has also co-authored successful Electronic Commerce legislation in Georgia. He also has been a frequent speaker on a variety of retail and electronic banking topics, both in the United States, as well as in Asia and Africa.
Mr. Johnson holds a BS degree with Highest Honor in Management Science from Georgia Tech where he graduated number one in the College of Industrial Management and was nominated for a Rhodes Scholarship. He received his MBA degree in Finance and Marketing from the University of Chicago Graduate School of Business where he was the E. I. DuPont Fellow and a Leon Carroll Marshall Scholar.